Unable to Save Job. Save and Complete button is disabled
If you are unable to complete a job because the Save and Complete button is disabled, there are two likely causes;

1. You are not logged in with a transcribe role. Organization Admins can access the Transcription Module but they can't update documents and the Save and Complete button and the Suspend buttons are disabled.

2. If you are a typist and the Save and Complete button is disabled, it may be because you haven't listened to the whole audio file. The Save and Complete button only gets enabled when you get to within the last 10 seconds of the audio file.


Note: If you drag the slider bar to the end but the Save and Complete button is still disabled, you may need to just press play once to trigger enabling the Save and Complete button.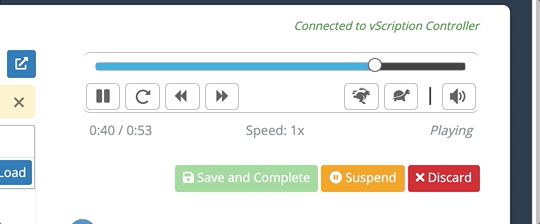 Related Articles

Job Lister

Job Lister - Quick Start Guide As a Client Administrator user, you have the ability to manage all jobs for your account. The job lister will allow you to view the status, create new jobs, and download/view completed transcribed documents. vScription ...

Transcription Module Quick Start Guide

The Transcribe Module in vScription Transcribed is used by typists to transcribe dictated reports into text. It can also be used in a limited way by organization admins to review transcribed documents. In this guide we are going to cover what you ...

Uploading Jobs

Uploading Jobs 1. From the Job Lister page or the Navigation bar, click the UPLOAD JOBS button 2. Once you click the Upload Jobs button it will bring you to the job upload page 3. Drag and drop the files you want to upload to the drop zone. You can ...

Getting Started with vScription Mobile

The screenshots shown here are with an iPhone in Dark Mode, If you are not in dark mode, the colors will be different but the functionality will be the same To Login To login, launch the app and enter your vScription Transcribe credentials. Note: You ...

Getting Started with vScription Assist

What is vScription Assist? vScription Assist is a companion app for the nVoq Cloud Based Medical speech recognition engine and was designed to be used in place of the discontinued Transcription Assist feature previously available in the nVoq Wireless ...